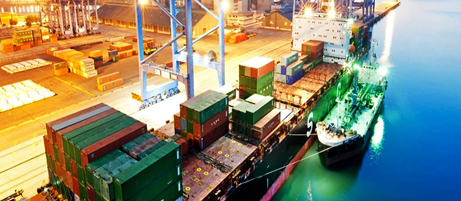 Our Freight Forwarding Services
Sea Freight Forwarding
We are rendering the best Sea Freight Services to our valued customers. We have contracts in place with many of the world's major sea carriers to/from Asia, USA, Middle East, Europe and Africa. LCL Sea freight consolidations are also available under our group. We are rendering the best buyer LCL Consolidator for industries such as Readymade Garments , fashion , footwear ,Apparel , FMCG (Fast Moving Consumer Goods), Pharmaceuticals ,Spare parts , Oil & Gas Etc.
Air Freight Forwarding
We are rendering the best Air Freight Services to our valued customers. We have partnerships with major air carriers give customers priority access to competitive rates and space allocations for any destinations of the world. Sea / Air Freight Forwarding We are also doing Sea-Air Freight services by linking Asia, Europe and the United States with our expert & specialised Sea/Air service. We delivers a significant cost advantage to customers, particularly those operating with low inventories in fast moving industries
Customs Clearing & Forwarding
We have the local know-how and global resources to provide full clearing and forwarding services for shipments to destinations worldwide, as well as efficient final delivery to destination.
Special and Project Cargo
We are a leader in handling project cargoes at Chittagong Port since long time. Project cargoes that require unconventional handling – heavy lifts, special equipment, shipments in odd sizes and irregular shapes — for delivery to even the remotest areas, we can do it for you.
Land Transportation
We offers a diverse range of land transportation services at Chittagong Port. Our vehicles are operating under our own banner .
Warehousing , Distribution and Storage
We offers warehousing and distribution services We operate a varied range of facilities in different locations depending on the market requirements. Our facilities storage with web-enabled inventory tracking and storage for standard pallet, shelved, hanging garment and bulk commodities.
Ship Spares Logistics
We offers ship owners and management companies a "door-to-deck" delivery service for ship spares and marine parts. We have in house Shipping agency Services to ensure the best Quality Services.
Door-to-Door Services
LCL Consolidation And Deconsolidation
We are doing LCL Consol Box from Chittagong to Worldwide destinations. We can ship your goods no matter how small you volume is.
Our Freight and Logistics Services:
Sea Freight – Sea Cargo, Sea Freight and Sea Freight Forwarding Air Freight – Air Cargo, Air Freight and Air Freight Forwarding Transportation – Expedited Carrier and Expedited Trucking Logistics Services – Freight Brokerage, Supply Chain Management and 3PL Provider Just in Time – Just in Time Delivery, Just in Time Inventory Control Truckload Services – Full Truckload, Dry Vans, Flatbed, Air Ride, Refrigerated Trucking Full Container Load (FCL) Less-than-Container Load (LCL)
ICT Pangaon
We are operating ICP Pangaon Container operation by two Feeder vessels. For inquiry please contact :